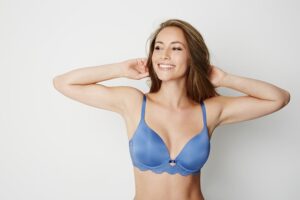 It's well-known that the breasts can change in shape, size, and texture as you get older. With age and particularly during menopause, your body produces less estrogen and the skin can simultaneously lose elasticity. These factors — combined with the weakening of internal breast support — commonly result in an array of tissue changes, including:
A loss of firmness and volume
A loss of shape, resulting in elongated or flat breasts
Sagging or drooping breast tissue
The development of stretch marks
A wider space between the breasts
The breasts can also change prior to entering menopause due to other life events, such as pregnancy and major weight loss. Fortunately, youthful breast contours can be restored using treatment options designed to reverse the tissue changes caused by aging. Breast augmentation can enhance firmness, volume, and support for the breasts, while mastopexy can reduce sagging and attain a more rejuvenated positioning. Both procedures are often combined into one treatment plan consisting of a breast lift with implants, allowing patients to achieve the best possible result.

Dr. Wesley Schooler can create a personalized treatment plan tailored to make your desired breast contours a reality. To schedule a consultation and learn more about what improvements are possible, please contact Santa Barbara Plastic Surgery Center today.

The post Blog first appeared on Santa Barbara Plastic Surgery.