Breast Implant Options
Women have several different implant options from which to choose. Dr. Wesley Schooler, a board-certified Plastic Surgeon based in Santa Barbara, California, is skilled at helping patients select the breast implants that will best meet their needs and goals. During the consultation prior to surgery, you will be shown the types, sizes, and shapes that are available. Dr. Schooler help patients become better educated on the different types of implants so they can make their selections with confidence.
Implant Type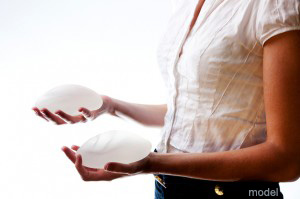 Breast augmentation patients can choose between saline or silicone breast implants. Both types of implants were developed in the 1960s. The materials and technology used to create implants have continued to evolve and improve since that time. Saline implants were used exclusively in the United States from 1992 until 2006 while the Federal Drug Administration conducted tests on the safety of silicone-based implants. After determining that silicone breast implants pose no health risks, the FDA authorized their use once again in November of 2006.
Silicone implants are often preferred over saline implants because they look and feel more natural. However, in some cases, saline implants may be a better option. Dr. Schooler will help patients select the type of implant that is appropriate for them.
Implant Size
For most patients, deciding upon the desired breast implant size is a critical step. Several factors are considered to determine the ideal breast size, including your body type, the amount of breast tissue you have, and your cosmetic goals. We will show you before-and-after photos of patients with different implant sizes. You will be able to touch and hold actual sample implants, and to slip them inside a light bra to get a rough idea of your appearance in clothes. We will guide you through this important step to help ensure that you will be pleased with the surgical result.
Women today have many implant options. A skilled and experienced plastic surgeon can provide valuable counsel in selecting the implants that are appropriate for your needs and goals. Please contact the Santa Barbara Plastic Surgery Center to schedule a personal consultation with Dr. Schooler to learn about breast implant choices.