Breast Augmentation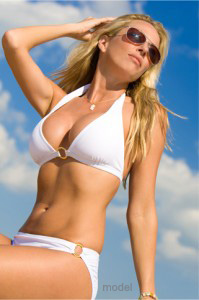 Breast augmentation is designed to enhance the fullness and contours of the breasts by placing saline or silicone breast implants. This can enlarge the breasts and yield a very natural-looking improvement in a patient's silhouette. Many factors need to be considered prior to surgery, including the size and type of implant, the incision location, and whether the implant should be placed above or below the chest muscle. Plastic surgeon Wesley Schooler, MD has the experience and skill to help patients make the decisions that best complement their unique figure and subsequently provide them with the look they desire.
What is Breast Augmentation?
Breast augmentation, one of our signature procedures, is performed at the Santa Barbara Plastic Surgery Center for patients who desire a fuller, more attractive figure. We have helped many women from Santa Barbara, Ventura, Bakersfield, California, Hawaii, Canada, Mexico, and even Europe enhance their beauty and femininity with breast augmentation. Designed to increase a patient's breast size, breast augmentation is completely personalized for each individual. Before the procedure, the most ideal size, type, and shape of implant is decided along with the best locations for the incision and implant pocket. The breast augmentation process starts with a consultation, which will give you insight into how surgery will be performed and what to expect from the outcome.
Am I a Candidate For Breast Augmentation?
Women interested in breast augmentation should be relatively healthy enough to undergo surgery and maintain realistic expectations about what the procedure can accomplish. In addition, patients should want to achieve one or more of the following goals:
Enlarge the breast size
Enhance fullness in the upper poles of the breasts
Resolve asymmetry
Improve the breast shape and breast contours
Dr. Schooler and our team will review your medical history and evaluate your concerns to help ensure this procedure is the most ideal breast surgery to achieve your goals. In some cases wherein patients also wish to correct breast sag, a breast lift can be combined with breast augmentation to enhance both the size and positioning of the breasts at once.
Types of Breast Implants
During a breast augmentation consultation at our practice, we will ask about your preferences and goals. We will explain the different options that are available, including the best size, shape, and type of implant. The difference between saline and silicone implants will be explained, and the pros and cons of placing the implants above or below the chest muscle will be discussed.
Saline Breast Implants
Saline implants are FDA-approved for use in patients who are at least 18 years old. They are made of a silicone shell filled with a saline (saltwater) solution. Compared to silicone implants, saline implants have a less firm, fluid-like consistency and usually provide a round breast shape. They can be inserted into the breast pocket using a smaller incision since many saline implants are filled after their placement. Saline implants offer the benefits of minimal scarring after the procedure and visible signs of implant rupture in the rare event of a tear or leak.
Silicone Breast Implants
FDA-approved for patients who are 22 years of age and older, silicone implants are made of a cohesive silicone gel. They are known for offering a very realistic look and firm feel that is akin to natural breast tissue. Having served as a clinical consultant for three of the most prominent breast implant manufacturers in the country, Dr. Schooler is highly experienced in the placement of silicone implants. These devices have evolved significantly since their introduction, and silicone implant technology continues to provide some of the most outstanding outcomes achieved with breast augmentation.
Form-Stable Breast Implants
Form-stable, or "gummy bear," implants offer a teardrop breast shape that can look especially realistic for patients who are naturally small chested. These implants are composed of a thicker silicone gel than the fill material used in traditional silicone implants. They are FDA-approved for both cosmetic and reconstructive purposes. Dr. Schooler has extensive experience with the proper use of these implants for both aesthetic and reconstructive purposes. With recent findings regarding BIA-ALCL, textured implants, and the requirement of texturing to hold shaped implants in place, form-stable implants have been utilized less frequently.
Choosing an Implant Size
Perhaps the consideration that patients ask the most about is implant size. Three different factors can determine the size of your new breasts: the width, volume, and projection of the implants. You will have the opportunity to see numerous before-and-after photos in addition to holding up implants of different sizes to help you make your decision. Dr. Schooler will also advise which implants he recommends for you after reviewing your options.
How is the Breast Augmentation Procedure Performed?
The breast augmentation procedure is performed at our fully-accredited outpatient surgery center. We have taken all precautions to ensure patient comfort and safety. A board-certified anesthesiologist is on hand to make sure patients are relaxed and feel no discomfort during treatment. Once the anesthesia has taken effect, Dr. Schooler will make an incision in a pre-determined location. The incisions are carefully placed so that scars will be difficult to see. Breast implants are then carefully positioned in pockets created beneath the breast tissue and, often, under the pectoralis (chest) muscle as well. Once the incisions are sutured and a compression garment is applied, breast augmentation surgery is complete. The entire procedure is usually completed in one to one and a half hours.
What is Recovery From Breast Augmentation Like?
Our doctor and staff are here to provide complete guidance and support throughout the recovery period. We will advise you on which steps to take to ensure you heal as quickly and comfortably as possible.
Patients should get plenty of rest in the days after breast augmentation. It's important to avoid lifting, bending over, or raising the arms above the head. As part of our "Santa Barbara Experience," we have arranged for our patients to receive discounts at area hotels so that they can rest and recover in our beautiful beachside town. Within a few days of the breast augmentation procedure, we have patients return to our offices for a follow-up appointment, where we replace surgical bandages with a light bra which we provide for you. Patients can generally return to work within three to seven days of their breast augmentation surgery, depending on their comfort levels. Post-operative pain is very manageable and improves significantly just a few days after surgery.
How Much Does Breast Augmentation Cost?
Breast augmentation is a highly customized procedure that cannot be financially assessed without a personal consultation. Once your unique needs are evaluated, our office will be able to provide you with an accurate cost estimate based on the details of your treatment plan, such as:
The type of implants placed
The surgical technique used
The need for additional procedures, like a breast lift or liposuction, to achieve your goals
Fortunately, breast augmentation at our accredited surgery center is often more affordable than it would be if the procedure was performed at a hospital, as patients are able to experience a caring, state-of-the-art environment at a fraction of the cost of hospital care. Dr. Schooler also accepts breast surgery financing from CareCredit® and ALPHAEON™ Credit to make the costs of breast augmentation even more manageable. Simply apply to either healthcare lending company, and qualified patients will then be able to choose from a selection of low- to no-interest payment plans upon approval. Please call our office at (805) 687-7336 if you have any other questions about the cost of breast augmentation or the procedure itself.
For more information about breast augmentation, please schedule a consultation with Dr. Wesley Schooler at the Santa Barbara Plastic Surgery Center.