Breast Augmentation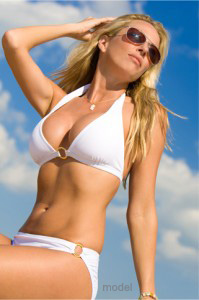 Breast augmentation is designed to enhance the fullness and contours of the breasts by placing saline or silicone breast implants. This can enlarge the breasts and yield a very natural-looking improvement in your silhouette. Many factors need to be considered prior to surgery, including the size and type of implant, the incision location, and whether the implant should be placed above or below the chest muscle. Plastic surgeon Wesley Schooler, MD has the experience and skill to help patients make the decisions that best complement their unique figure and achieve the look they desire.
What is Breast Augmentation?
Breast augmentation, one of our signature procedures, is performed at the Santa Barbara Plastic Surgery Center for patients who desire a fuller, more attractive figure. We have helped many women from Santa Barbara, Ventura, Bakersfield, California, Hawaii, Canada, Mexico, and even Europe enhance their beauty and femininity with breast augmentation. Designed to increase a patient's breast size, breast augmentation is completely personalized for each individual. Before the procedure, the most ideal size, type, and shape of implant is decided along with the best locations for the incision and implant pocket. The breast augmentation process starts with a consultation, which will give you insight into how surgery will be performed and what to expect from the outcome.
What Improvements are Possible with Breast Augmentation?
Breast implants can give you the contours you've always desired or address aesthetic concerns commonly held by patients as they get older, such as lost volume or shape. In general, breast augmentation can enhance your silhouette by:
Enlarging the breast size
Enhancing fullness in the upper poles of the breasts
Resolving asymmetry
Improving the breast shape 
Firming the breasts
Reconstructing the breasts after cancer removal surgery
The procedure is versatile enough to correct age-related changes in your breast contours, as well as changes that occur as the result of pregnancy or breastfeeding. If you're seeking to restore your pre-baby body altogether, Dr. Schooler can also perform breast augmentation as part of a full Mommy Makeover. In any case, our team is committed to creating the best treatment plan for your unique needs and goals.
Am I a Candidate For Breast Augmentation?
Women interested in breast augmentation should be relatively healthy enough to undergo surgery and maintain realistic expectations about what the procedure can accomplish. In addition, patients should:
Want to increase their breast size
Be a non-smoker, or willing to stop smoking before and after their procedure
Have a positive outlook on surgery
Be at or near their ideal weight
Dr. Schooler and our team will review your medical history and evaluate your concerns to help ensure this procedure is the most ideal breast surgery to achieve your goals. In some cases where patients also wish to correct breast sag, a breast lift can be combined with breast augmentation to enhance both the size and positioning of the breasts at once.
Types of Breast Implants
During a breast augmentation consultation at our practice, we will ask about your preferences and goals. We will explain the different options that are available, including the best size, shape, and type of implant. The difference between saline and silicone implants will be explained, and the pros and cons of placing the implants above or below the chest muscle will be discussed.
Saline Breast Implants
Saline implants are FDA-approved for use in patients who are at least 18 years old. They are made of a silicone shell filled with a saline (saltwater) solution. Compared to silicone implants, saline implants have a less firm, fluid-like consistency and usually provide a round breast shape. They can be inserted into the breast pocket using a smaller incision since many saline implants are filled after their placement. Saline implants offer the benefits of minimal scarring after the procedure and visible signs of implant rupture in the rare event of a tear or leak.
Silicone Breast Implants
FDA-approved for patients who are 22 years of age and older, silicone implants are made of a cohesive silicone gel. They are known for offering a very realistic look and firm feel that is akin to natural breast tissue. Having served as a clinical consultant for three of the most prominent breast implant manufacturers in the country, Dr. Schooler is highly experienced in the placement of silicone implants. These devices have evolved significantly since their introduction, and silicone implant technology continues to provide some of the most outstanding outcomes achieved with breast augmentation.
Form-Stable Breast Implants
Form-stable, or "gummy bear," implants offer a teardrop breast shape that can look especially realistic for patients who are naturally small chested. These implants are composed of a thicker silicone gel than the fill material used in traditional silicone implants. They are FDA-approved for both cosmetic and reconstructive purposes. Dr. Schooler has extensive experience with the proper use of these implants for both aesthetic and reconstructive purposes. With recent findings regarding BIA-ALCL, textured implants, and the requirement of texturing to hold shaped implants in place, form-stable implants have been utilized less frequently.
Choosing an Implant Size
Perhaps the consideration that patients ask the most about is implant size. Three different factors can determine the size of your new breasts: the width, volume, and projection of the implants. You will have the opportunity to see numerous before-and-after photos in addition to holding up implants of different sizes to help you make your decision. Dr. Schooler will also advise which implants he recommends for you after reviewing your options.
Breast Implant Placement
In general, your implants can be placed either over or under the pectoral (chest) muscles. Each location offers its own benefits and the best technique may depend on your lifestyle, body frame, and anatomical indicators. With the skill of an experienced plastic surgeon who can identify the most optimal positioning for your needs, both placement options can look natural and proportionate.
Under-the-Muscle Implant Placement (Submuscular)
Positioning the breast implant under the chest muscle can be the best approach for patients who have a naturally petite body frame and/or limited breast tissue to provide coverage for the implant. With submuscular placement, the overlying muscle is able to offer more support and reduce the risk of seeing or feeling the implant edges (rippling).  Mammograms can also be more accurate, and capsular contracture — a well-known issue in which scar tissue forms and hardens around an implant — is typically less frequent with under-the-muscle placement. However, the recovery period after breast augmentation can also be relatively longer compared to a subglandular approach.
Over-the-Muscle Implant Placement (Subglandular)
With subglandular placement, the breast implant is positioned directly behind the breast tissue on top of the chest muscle. This often allows the breasts to heal faster — and with less post-operative discomfort — than the under-the-muscle technique. Breast implants also tend to be less affected by movement and physical activity when compared to submuscular placement, sometimes making this positioning ideal for weightlifters and bodybuilders. That said, there must be an adequate amount of existing breast tissue to provide coverage for the implants in order to attain a natural-looking result.
Where Will My Incisions Be Located?
With breast augmentation, the incisions used to place your implants can be located in one of three locations: around the areola, along the natural breast crease, or within a fold of the underarm. The technique employed during your surgery will depend on the type and size of implants chosen for your enhancement:
Periareolar: Made along the natural anatomic transition between the areolas and breast skin
Inframammary: Placed along the natural contour where the base of the breast meets the chest wall
Transaxillary: Blends into a fold of the underarm
Most commonly, Dr. Schooler utilizes the periareolar or short-scar inframammary incisions to enhance the breasts. These incisions blend well into the natural contours of the breasts and can be ideal for a wide variety of implants. Plus, both incision options can be reused in the event that you decide to undergo a future breast surgery, such as breast revision or breast implant removal.
How is the Breast Augmentation Procedure Performed?
The breast augmentation procedure is performed at our fully-accredited outpatient surgery center. We have taken all precautions to ensure patient comfort and safety. A board-certified nurse or physician anesthesiologist is on hand to make sure patients are relaxed and feel no discomfort during treatment. Once the anesthesia has taken effect, Dr. Schooler will make an incision in a pre-determined location. The incisions are carefully placed so that scars will be difficult to see. Breast implants are then carefully positioned in pockets created beneath the breast tissue and, often, under the pectoralis (chest) muscle as well. Once the incisions are sutured and a compression garment is applied, breast augmentation surgery is complete. The entire procedure is usually completed in one to one and a half hours.
What is Recovery From Breast Augmentation Like?
Our doctor and staff are here to provide complete guidance and support throughout the recovery period. We will advise you on which steps to take to ensure you heal as quickly and comfortably as possible.
Patients should get plenty of rest in the days after breast augmentation. It's important to avoid lifting, bending over, or raising the arms above the head. As part of our "Santa Barbara Experience," we have arranged for our patients to receive discounts at area hotels so that they can rest and recover in our beautiful beachside town. Within a few days of the breast augmentation procedure, we have patients return to our offices for a follow-up appointment, where we replace surgical bandages with a light bra which we provide for you. Patients can generally return to work within three to seven days of their breast augmentation surgery, depending on their comfort levels. Post-operative pain is very manageable and improves significantly just a few days after surgery.
How Long Do Breast Implants Last?
The lifespan of a breast implant is different for each patient and largely depends on the type of implant, as well as the implant manufacturer. In some cases, breast implants can outlast decades of use, but it is not uncommon for complications to arise (i.e. implant leaking, rupture, capsular contracture.) after a certain number of years. The most important factor with regard to the longevity of breast implants is the ability to recognize when they need replacing. With saline implants, patients will typically experience a noticeable deflation in size or shape when there is a leak or rupture. In contrast, implants made from silicone can often keep their shape in the event of a complication — especially newer form-stable ("gummy bear") implants composed of cohesive gel — but some surface abnormalities may still be apparent.
Ultimately, breast implants are usually very long-lasting, but it is important to be vigilant about any changes you may experience in the shape or dimensions of the breasts. If you have any concerns, or if you would simply like to upgrade to a different size or type of implant, Dr. Schooler also performs breast revision surgery to replace or remove older breast implants.
Will I Have Visible Breast Augmentation Scars?
Every cosmetic procedure will leave scarring to some degree, but scars from breast augmentation are typically well-concealed underneath any bra or bikini top. For patients who received the transaxillary incision, the breasts should be left completely unscarred. The pattern of your incisions will determine how your breast augmentation scars appear, and Dr. Schooler can show you what you can expect during a personal consultation. Our before-and-after photos may also provide you with a good understanding of how inconspicuous scars can be after breast augmentation. With proper wound care measures, which will be thoroughly explained in your post-operative instructions, any scarring can further lighten and fade to some extent over time.
How Much Does Breast Augmentation Cost?
Breast augmentation is a highly customized procedure that cannot be financially assessed without a personal consultation. Once your unique needs are evaluated, our office will be able to provide you with an accurate cost estimate based on the details of your treatment plan, such as:
The type of implants placed
The surgical technique used
The need for additional procedures, like a breast lift or liposuction, to achieve your goals
Fortunately, breast augmentation at our accredited surgery center is often more affordable than it would be if the procedure was performed at a hospital, as patients are able to experience a caring, state-of-the-art environment at a fraction of the cost of hospital care. Dr. Schooler also accepts breast surgery financing from CareCredit® and ALPHAEON™ Credit to make the costs of breast augmentation even more manageable. Simply apply to either healthcare lending company, and qualified patients will then be able to choose from a selection of low- to no-interest payment plans upon approval. Please call our office at (805) 687-7336 if you have any other questions about the cost of breast augmentation or the procedure itself.
Breast Augmentation vs. Breast Lift
As two of the most popular cosmetic procedures performed, breast augmentation and mastopexy can be excellent options to rejuvenate the breasts. While both surgeries can offer positive changes to the breast shape, each procedure is considered for different reasons. A breast augmentation is ideal for patients who want additional breast volume or a larger breast size. Implants alone cannot significantly improve breast sag or ptosis, so women who are primarily concerned about drooping breast tissue may benefit more from a breast lift. In contrast, a mastopexy can make the breasts firmer and more youthful, but will not add breast volume or enhance fullness.
Additional Breast Augmentation FAQs
What are the most common breast implant complications?
The most well-known complications associated with breast implants typically include implant rippling, rupture, and the formation of hard scar tissue. Rippling is characterized by the ability to see or feel the edges of an implant through the skin. This may occur if patients receive large implants while having relatively thin breast skin, but can often be corrected with techniques like fat transfer. Implant rupture occurs when there is a tear or break in your breast implants. This complication is exceedingly rare; however, a rupture may not be readily visible for patients who have silicone implants. For this reason, we encourage you to maintain regular medical check-ups and periodic MRIs to help ensure your implants are still in good condition. Capsular contracture, or the formation of hard scar tissue, may cause tightness, firmness, swelling, and even pain in the breasts. While some degree of scar tissue is usually no cause for concern, patients who experience hardness or tightness in their breasts should have their implants evaluated as soon as possible. 
Can I breastfeed with breast implants?
It's certainly possible to breastfeed with implants, but we highly recommend that patients interested in breast augmentation wait until after they have no future plans for pregnancy or nursing to undergo their procedure. From a cosmetic standpoint, having children can change your breast and body contours. This creates a risk of potentially altering the results of your breast enhancement, so it can be in your best interest to postpone breast augmentation until after your family is completed. It's also important to note that not every woman can breastfeed to begin with, and surgery will not change the ability to nurse. 
Will I have to replace my breast implants in the future?
In general, most patients don't feel a need to replace their breast implants unless a complication arises, or unless they simply desire a new type, size, or shape of implant. Many women are able to enjoy their breast implants for an entire lifetime, but it's not uncommon for patients to also want to upgrade their implants to another size or fill material. Implant technology is constantly evolving, so Dr. Schooler often speaks with individuals who seek to replace their older devices with newer implants in a breast revision procedure. Ultimately, our team encourages patients to remain vigilant to possible changes in the look or feel of their breasts. If there is no cause for concern, you likely do not need to replace your implants. 
How should I sleep after breast augmentation?
Immediately after surgery, patients should sleep on their back and avoid resting on their sides or stomach. This is necessary during the initial healing process to allow your breast implants to "settle" properly. If you are prone to turning on your sides or stomach while asleep, pillows can be used to prop up the body and keep you in the appropriate sleeping position. Dr. Schooler will discuss this further with you in person and provide extensive post-operative instructions after your surgery. 
What is fat transfer breast augmentation?
Fat transfer breast augmentation is a technique designed to take excess fat cells from another part of the body and repurpose it for volume enhancement. This can help provide more coverage for your implants in the event of rippling, or complement the results of breast augmentation by refining your contours. In either case, fat transfer typically provides a very modest volume enhancement to the breasts, so the technique usually isn't utilized alone to enlarge the breast size. 
For more information about breast augmentation, please schedule a consultation with Dr. Wesley Schooler at the Santa Barbara Plastic Surgery Center.