Breast Augmentation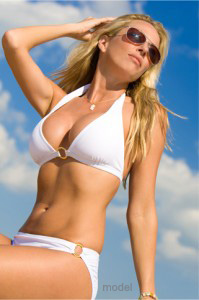 One of our signature procedures, breast augmentation is performed at the Santa Barbara Plastic Surgery Center for women who desire a fuller, more attractive figure. We have helped many women from Santa Barbara, Ventura, Bakersfield, California, Hawaii, Canada, Mexico and even Europe enhance their beauty and femininity with breast augmentation. Many factors need to be considered prior to surgery, including the size and type of implant, the incision location, and whether the implant is placed above or beneath the chest muscle. Dr. Wesley Schooler  has the experience and skill to help patients make the decisions which will best complement their figures and provide them with the look they desire.
Before Breast Augmentation Surgery
During a breast augmentation consultation at our plastic surgery practice, we will ask about your preferences and goals. We will explain the different options that are available, including the size, shape, and type of implants. The difference between saline and silicone implants will be explained, and the pros and cons of placing the implants above or beneath the chest muscle will be discussed.
Perhaps the consideration that patients have the most questions about is implant size. Three different factors determine the size of the new breasts: the width, volume, and projection of the implants. Patients will have the opportunity to see numerous before-and-after photos in addition to holding up implants of different sizes to help them make their decisions. Dr. Schooler will also advise the patient which implants are recommends for her, after reviewing the options.
During Breast Augmentation Surgery
The breast augmentation procedure is performed at our fully accredited outpatient surgery center. We have taken all precautions to ensure patient comfort and safety. A board-certified anesthesiologist is on hand to make sure that the patient is relaxed and feels no discomfort during treatment. Once the anesthesia has taken effect, The doctor will make an incision in the pre-determined location. The incisions are carefully placed so that scars will be difficult to see. The breasts implants are then carefully positioned in pockets created beneath the breast tissue and often under the pectoralis muscle as well. Once the incisions are sutured and a compression garment is applied, breast augmentation surgery is complete. The entire breast augmentation procedure is usually completed in one to one and a half hours.
After Breast Augmentation
Our doctor and staff are here to provide complete guidance and support throughout the recovery period. We will advise you on the steps to take to ensure that you heal as quickly and comfortably as possible.
Patients need to make sure to get plenty of rest in the days after breast augmentation surgery. It's important to avoid lifting, bending over, or raising the arms above the head. As part of our "Santa Barbara Experience", we have arranged for our patients to receive discounts at area hotels so that they can rest and recover in our beautiful beachside town. Several days after the breast augmentation procedure, we have patients return to our offices for a follow-up appointment where we replace the surgical bandages with a light bra which we provide for you. Patients can generally return to work within three to seven day of their breast augmentation surgery, depending on their comfort level.
For more information about breast augmentation, please schedule a consultation at the Santa Barbara Plastic Surgery Center with Dr. Wesley Schooler.