Breast Procedures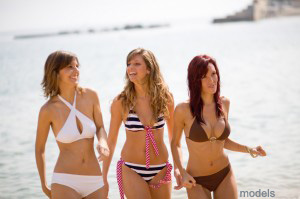 Dr. Wesley Schooler has a special focus on cosmetic breast surgery at our practice in Santa Barbara, California. We draw patients from the surrounding areas and throughout California. Our plastic surgeon and staff have built a reputation of providing beautiful results and high quality care, from the initial consultation and throughout the recovery period. Our cosmetic breast procedures include augmentation, breast lift, reduction, reconstruction, augmentation revision, and implant replacement.
Breast augmentation surgery enlarges the size and shape of the patient's breasts to match her goals. Using his technical skill and artistic touch, Dr. Schooler can create beautiful, natural looking results that complement the patient's figure and enhance her confidence and feeling of femininity.
Breast lift surgery, also called Mastopexy, is performed for women whose breasts have begun to droop or sag due to the aging process, pregnancy, childbirth, or significant weight loss. Our plastic surgeon can "lift" the breasts so that they rest higher on the chest wall and are restored to a more youthful appearance. Excess skin is removed so that the breasts are firmer and shapelier. The breast lift is sometimes performed in conjunction with augmentation to create larger breasts with more upper pole fullness.
Commonly referred to as a breast lift with implants, Dr. Wesley Schooler offers this dynamic combination surgery to achieve the benefits of both a breast lift and a breast augmentation. Using implants to enhance the volume, shape, and projection of the breasts, our plastic surgeon additionally raises the breasts to a more youthful positioning to correct breast sag and provide comprehensive rejuvenation of your breast appearance.
Women with heavy, pendulous breasts who feel back, shoulder, and neck pain are good candidates for this operation. They may feel embarrassed by large breasts and their participation in sports activities may be limited. Breast reduction surgery can alleviate their discomfort and allow greater mobility. Ladies who undergo breast reduction are some of our most grateful patients.
Breast augmentation revision may be indicated if the result is not acceptable, often because a complication has occurred. The implants may need to be repositioned or removed, or replaced. If excessive scar tissue forms around the implants, firmness can occur (encapsulation), which might require release or removal of some of the scar tissue.
Patients who are unhappy with the size of their augmented breasts may have larger or smaller implants inserted. Patients with saline implants may prefer to have silicone gel implants, because they often feel more natural. Patients with older implants may choose to have newer ones that incorporate technological improvements. Sometimes after trauma (like motor vehicle accidents) implants are damaged and need to be replaced. If saline implants deflate, they need to be replaced or removed.
For individuals who have had a unilateral or bilateral mastectomy, our plastic surgeons offer breast reconstruction surgery to rebuild as close to a normal breast appearance as possible and restore a patient's body image. This procedure is designed to lessen the emotional impact of breast cancer removal treatment and may utilize a combination of reconstruction techniques, depending on your unique needs.  
For more information about these procedures, please contact our office to schedule a personal consultation with Dr. Wesley Schooler.