Mommy Makeover
Perhaps no experience is more life-changing than the birth of a child. Although moms may be overwhelmed with love for their newborns, they face many new responsibilities – all with little to no sleep. With all of the feedings and diaper changings, it's easy for new moms to put off taking care of their own needs.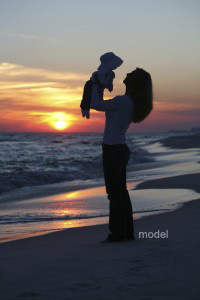 Pregnancy and childbirth take a predictable toll on mom's figure. The stomach muscles, breasts, hips, thighs and other areas stretch and lose their shape. A mommy makeover procedure can remove excess skin and soft tissue, tighten loose muscles, restore breast fullness, and remove unwanted fatty tissue to help your body regain its pre-pregnancy appearance.
You work hard providing your child with the love, care, and attention that he or she needs. You deserve some pampering yourself. After all, it's important for moms to feel good about themselves, so that they can be the best moms they can be.
At our practice in Santa Barbara, Dr. Wesley Schooler tailors the mommy makeover procedure to meet each patient's specific needs. Liposuction, tummy tuck, breast augmentation or lift, arm lift, and thigh lift surgery are some of the more popular procedures that are performed as part of the mommy makeover.
Liposuction
Liposuction is performed to remove fatty excess from the stomach, hips, thighs, and other areas that are difficult to tone even with regular exercise and proper nutrition. A small surgical cannula is inserted into the targeted regions to fragment the fatty areas and remove them from the body. Liposuction helps new moms regain thinner, smoother, and shapelier body contours.
Tummy Tuck
A tummy tuck is performed to tighten the stomach muscles that become lax as a result of pregnancy, and to remove excess skin and soft tissue from the abdomen. The tummy becomes tighter and regains tone.
Breast Augmentation or Lift
Many new moms notice that after pregnancy their breasts have begun to droop and look deflated. Breast implants can fill out the droopy areas, and sometimes skin needs to be removed to lift up and tighten the breasts, and gain a more youthful appearance.
Arm Lift and Thigh Lift
Patients with loose, flabby skin on the arms or thighs can undergo arm and thigh lift surgery as part of their mommy makeover. Our plastic surgeon will carefully remove the excess skin and shape the remaining skin in these areas to achieve trimmer and smoother body contours.
Several friends gave great referrals and loved the office and staff so I felt very good about everything from the beginning.
For more information on the mommy makeover, or to talk to Dr. Wesley Schooler about your specific needs and goals, please contact the Santa Barbara Plastic Surgery Center.