About Dr. Wesley G. Schooler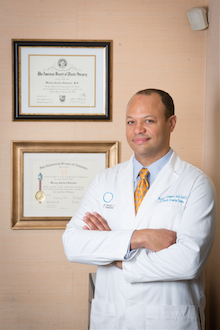 A double-board certified plastic and hand surgeon, Dr. Wesley G. Schooler performs cosmetic, reconstructive and hand surgery at Santa Barbara Plastic Surgery Center. Dr. Schooler's expertise extends to all areas of surgical and non-surgical aesthetic enhancement, including the face, breasts, body, and skin. His compassionate and detail-oriented approach is designed to help patients achieve their desired outcomes in the safest, most comfortable environment possible. Dr. Schooler takes a special interest in breast augmentation, breast reconstruction, breast implant exchange, and Mommy Makeovers, as these treatments can achieve remarkable changes in an individual's appearance and well-being. For each and every procedure, he derives great satisfaction from helping patients attain their cosmetic goals.
In addition to Santa Barbara, Dr. Schooler practices in Los Angeles and Ventura. Prior to becoming Chief of Plastic Surgery and Medical director at Santa Barbara Plastic Surgery Center, he held several notable positions, including Chief of Plastic Surgery at LAC-USC Medical Center, Assistant Professor of Surgery at USC, and Assistant Professor of Plastic Surgery at Oregon Health Sciences University.
Dr. Schooler earned his medical degree from the University of North Carolina at Chapel Hill. He also completed training in Critical Care and General Surgery at UNC – Chapel Hill, followed by additional training at UC San Francisco, the Hand Center of San Antonio, and the Plastic Microsurgical Reconstruction Associates. He utilizes the most advanced techniques and technology available, and he lectures at prestigious conferences around the world.
Community outreach is an essential part of Dr. Schooler's philosophy, and he was one of the first physicians to work with the Los Angeles Center for Women's Health – an innovative, state-of-the-art clinic dedicated to the singular medical needs of women. In addition to numerous honors, he has been named one of Pasadena Magazine's Top Physicians five years in a row, and he was voted a "Southern California Super Doctor" in 2012, 2013, 2014, and 2015. A featured advisor on news programs and television shows, including ABC, FOX11, KEYT Health Connections, and Grey's Anatomy, Dr. Schooler also provides expert testimony to several of the biggest breast implant manufacturers worldwide.
To remain up-to-date on the latest advances in plastic and reconstructive surgery, Dr. Schooler regularly participates in continuing education, and he is an active member of such esteemed medical organizations as the American Medical Association, American Society of Plastic Surgeons, American Society for Aesthetic Plastic Surgery, California Society of Plastic Surgeons, American Association for Surgery of the Hand, California Medical Association, Santa Barbara County Medical Society, Santa Barbara Preferred Health Partners, and the American College of Surgeons.
Contact Us
If you would like more information on Dr. Wesley G. Schooler, or if you would like to schedule a consultation with one of our experienced plastic surgeons, please contact us today.